There is usually a Papa bird too. He is a red bird, but we left him at Grandpa's last week. For some reason, these a Cruz's favorite little go-to toys.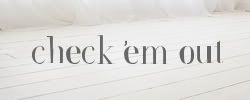 Check out some amazing new ladies in my sidebar.
Want to get in on the free blog advertising? Its easy.
I'll post yours, if you post mine.
Let's help each other out.